Processing, please wait
close
Free Webinar : Credit Risk Mitigation Techniques
Description
Why should you attend
Areas covered
Who will benefit
Speaker
Review the categories of credit risk incurred when selling to customers inside the U.S. and the additional risks involved when selling overseas and then learn how various tools are designed to manage these risks. This session compares commercial and standby letters of credit, standard and silent letter of credit confirmations, bank and corporate guarantees, forfaiting, factoring, credit insurance, credit derivatives, and foreign exchange contracts from the perspective of what risks each one covers. Participants learn to identify risks and the appropriate tools for managing those risks.
Identify payment risks in international commercial transactions.
Understand the risks that are and are not covered by various risk mitigation techniques.
Match risk mitigation techniques with risks inherent to transactions exporters face.
Craft an international credit policy suitable to a company's risk appetite and competitive position.
Export Credit Risks: Political, Economic, Commercial, FX
The Spectrum of Credit/Payment Terms: Cash in Advance to Installment Payments
Comparing Export Credit Risk Protection Mechanisms
Unconfirmed L/Cs
Confirmed L/Cs
Standby L/Cs
Independent/demand guarantees
Accessory/contract guarantees
Sight drafts, "documents against payment"
Avalized drafts and forfaiting
Factoring
Non-recourse sale of receivables
Credit insurance
Credit derivatives
FX Forwards & options
Attorneys
Credit and collection managers
Presidents
Vice Presidents
Business owners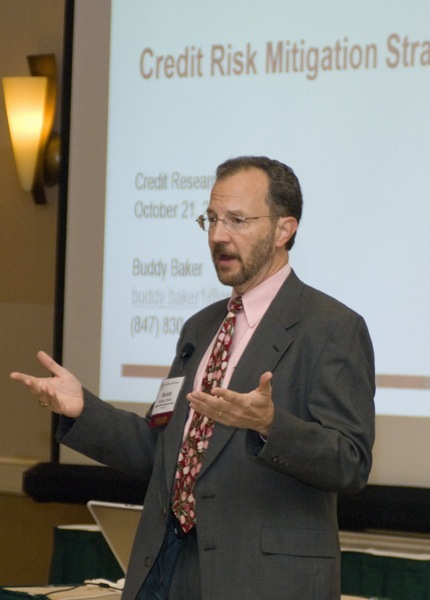 Walter (Buddy) Baker brings more than 30 years of experience in international trade finance to this presentation. Mr. Baker's professional experience includes stints with Atradius Trade Credit Insurance, ABN AMRO Bank, Bank of America, Wachovia Bank, and The First National Bank of Chicago.
Mr. Baker is a recognized expert in trade finance and makes frequent presentations for national associations of exporters, importers, bankers, and lawyers. He owns the consulting firm Global Trade Risk Management Strategies, which specializes in educational training, and designed the online training/certification programs used by the Association of International Credit and Trade Finance Professionals (ICTF) and by the Association of Trade and Forfaiting in the Americas (ATFA) and the trade finance sections of the certification program used by the Finance, Credit, and International Business Group (FCIB) of the National Association of Credit Management (NACM). Mr. Baker has authored numerous magazine articles and the books Users' Handbook to Documentary Credits under UCP600, Documentary Payments & Short-Term Trade Finance, and The Regulatory Environment of Letters of Credit and Trade Finance. As a member of the National Letter of Credit Committee of the Bankers' Association for Finance and Trade, the Advisory Council of the Institute for International Banking Law and Practice, and the Council for International Standby Practices, Mr. Baker is actively involved in establishing national and worldwide standard practices for LCs. He participated in the most recent revision of the Uniform Customs and Practice for Documentary Credits (referred to as "UCP600"), contributed to the creation of the official ICC guide for examining letter of credit documents, called the International Standard Banking Practices for the Examination of Documents under Documentary Credits, and served on the drafting committees for the International Standby Practices ("ISP98") and Article 5 of the Uniform Commercial Code. He also serves on the Board of Directors of the Association of International Credit and Trade Finance Professionals ("ICTF"), a multinational association of export credit managers.
Buddy earned his undergraduate degree at Yale University and his MBA at Northwestern.